General information
164628 references
2018 PDFs
486 TEI-XML full texts
16339 open access links
Phenomenology
1270 book series

Main coverage
Early Phenomenology
Brentano School
Neo-Kantianism
Gestalt & empirical psychology
What
We are a non-profit, international scholarly association whose mission is to provide free access to the full corpus of phenomenology as well as to develop and maintain the digital infrastructure required for its curation, study and dissemination.
Why
The Internet, emerging forms of digital scholarship and the advent of open access present researchers and institutions with a unique chance to reform academic publishing and harness its full potential for the provision of broader, cheaper and richer access to contents.
How
A digital platform will host all texts, documents and images in open access, feature interactive contents and offer an extensive set of digital tools such as multi-text search, data visualisations, citation index, bibliometric statistics, annotations and social sharing.
Thematic Scope
The Open Commons will host any relevant materials or research of quality related to phenomenology. "Phenomenology" itself is defined here broadly and inclusively as any work in philosophy or in other human sciences clearly connected with the ideas of "canonical phenomenologists" (Edmund Husserl, Martin Heidegger, Max Scheler, Eugen Fink, Roman Ingarden, Maurice Merleau-Ponty, Jean-Paul Sartre, Jan Patočka, Emanuel Levinas, etc.) as well as their students or followers.
Role & Structure
The Open Commons is best understood as an interface between research institutions, learned societies, libraries, publishers and of course scholars and the general public. As such, it will neither play nor seek to play any of these roles. Rather, it will provide and maintain a concrete digital infrastructure that will serve a) to aggregate and manage the contributions or outputs of all its stakeholders and b) to deliver better access to contents and shared use of resources.
This digital infrastructure and the resulting common resources provided by the Open Commons will be built on four complementary pillars: Open Publishing, Digital Curation, Research Community and Public Science. The following graph illustrates how they combine to create a complex, user-oriented platform that can meet the needs of scholars, students, archivists, librarians and the wider public.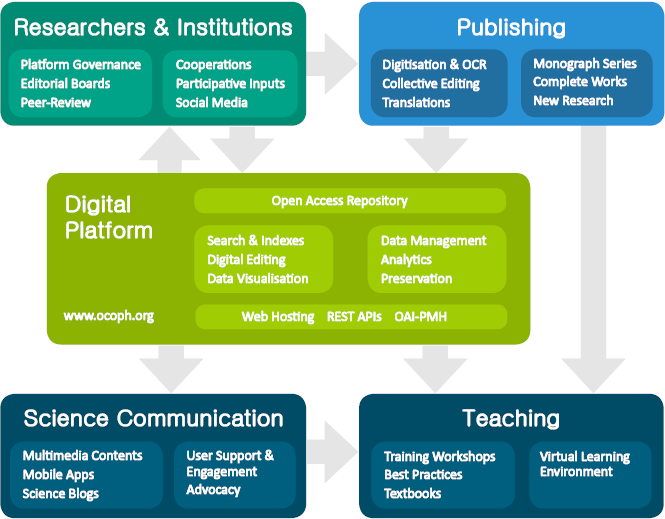 Open Publishing
The main pillar of the Open Commons is to provide quality access to relevant sources. This implies the digitisation and open digital publication of relevant materials (including archives, personal libraries as well as corre- spondences) and the print publication of both rare and well-known texts in thematic mono- graph series through partner publishers.
Digital Curation
On top of the texts themselves, the Open Commons will offer a virtual research environment that will allow scholars to comment, annotate and edit documents, to create and manage indexes, glossaries or bibliographies, to interactively visualise underlying data and to review and incrementally improve the quality of texts and their metadata.
Research Community
The Open Commons aims to function as a shared infrastructure directly at the service and under the supervision of its research community. It will foster active envolvement from stakeholders by hosting research projects and aggregating their outputs, supporting societies and institutes, and cooperating with established publishers and journals.
Public Science
Building on its academic excellence, the Open Commons will also engage a broad audience through targeted measures of public science communication (video and audio contents, mobile applications, digital exhibits), the provision of textbooks and the dissemination of its contents through generalist platforms such as Europeana, the DPLA or Wikipedia.